If there is anything that we have learned from COVID-19, it is that digital presence is very important. And, learning to leverage these digital tools to it fullest potential can and will reap benefits to your business. To start, it can become overwhelming for some, so we suggest starting with one tool at a time. One of those tools is Google My Business. Not only is Google My Business free, but you can also leverage it in a way that will influence some of the first few moments a customer will interact with your business online. It is a great way to display a snap shot of your company and to help customers locate and contact you. Here is why you need to leverage Google My Business and some tips to help. Let's dive in!
First off, what is Google My Business?
Google My Business (GMB) is a free tool for businesses to appear on Google across search results and Google maps.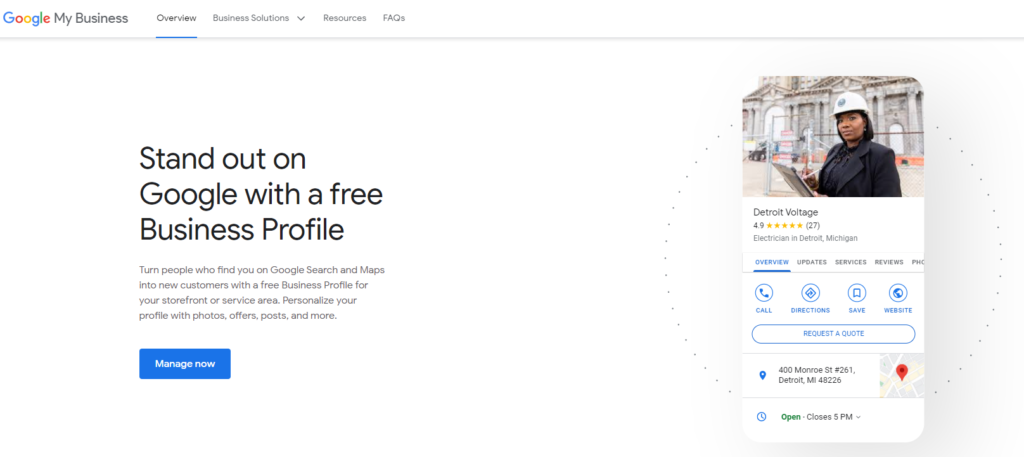 In other words, Google allows you to list your business (for free) on their search engine so that when people are either searching for your business or a product/service that you provide, your business will show up in those search results.
Your Google listing provides potential customers all of the basic information they will need to know about your business including: location, hours of operation, what services or products you offer, amenities, a phone number, your website, and a brief description of what you do.
Why is leveraging Google My Business important?
To keep accurate and up-to-date business information
Most people will refer to Google listings to see if you are open or how to navigate to your location. Google provides a quick and convenient way for customers to either call your business directly from your listing instead of having to search for your 'Contact' section on your website. It is important to have an accurate business phone number, as well as your current business address.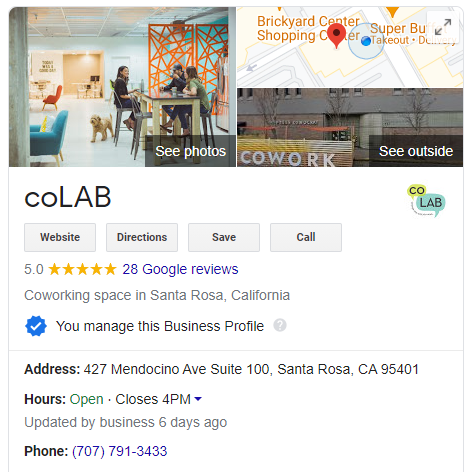 According to an article by Forbes, a recent Google report found that 60% of smartphone users contacted businesses directly through the GMB interface using the "click to call" option.
No one likes an unhappy customer, so it is also important to utilize your GMB to reflect your accurate hours of operation, including holiday hours. You would do your customers a favor by sparing them from driving to your location only to find out that you are closed.
It is a tool to interact with your customers
We live in a highly digital-driven world in which people enjoy the ease and convenience of day-to-day tasks. Amazon Prime and DoorDash set some pretty high standards for us, nonetheless, GMB is 1. Free and 2. Offers additional options for businesses to also receive messages from customers, in real-time. Similar to a chat box on a website.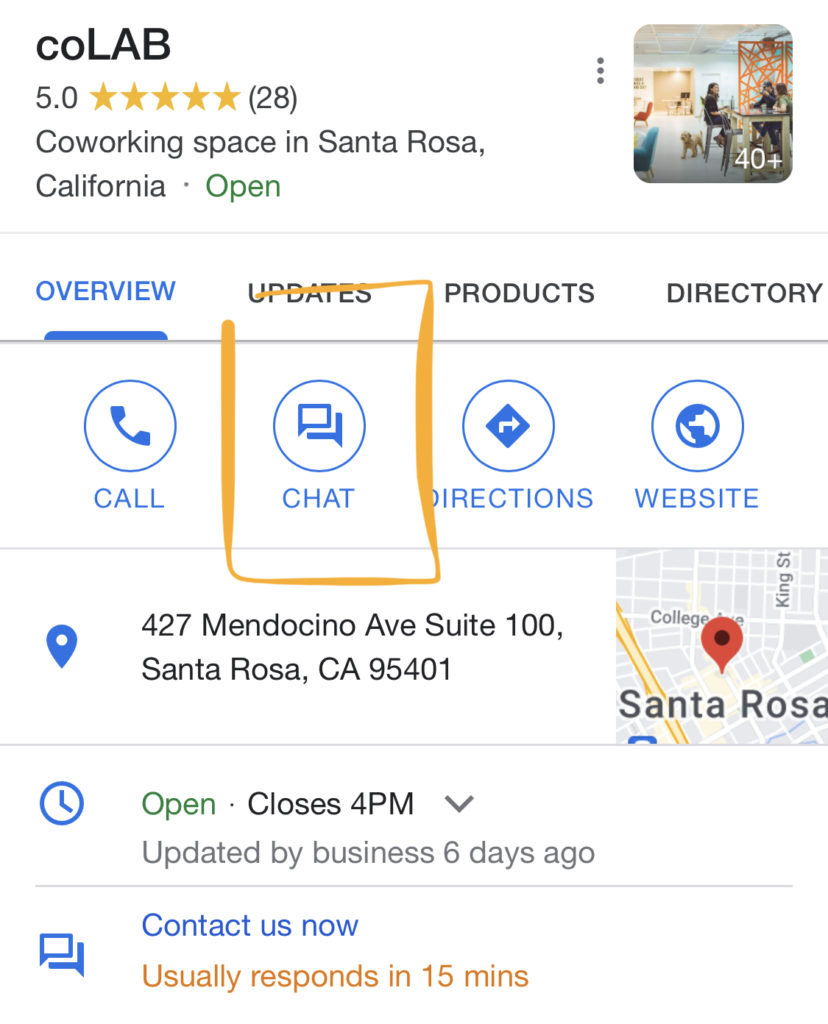 The messaging option is given to anyone who is viewing your listing – customers simply click the button to message your business and you are able to receive a notification on your computer and/or phone.
Bottom line, the easier you make it for customers to locate you, contact you, and understand your business in a snapshot of a listing, the better off your business is and the happier your customers will be.
You can gain new customers
Google My Business also displays similarly to a social media or LinkedIn profile. Whether people will admit it or not, they often navigate to a business or individual's profile to gain insight and first impressions.
When customers need to make a decision via research online, they are often looking for specific elements that help them along in their decision. Think about what you look for when you are trying to decide which restaurant to eat at. You will want to see photos of what the dining area looks like, you may want to read a few reviews to know if the food tastes alright, or you'll want to see a snapshot of the menu, etc. Your business listing on Google will allow you to put your best foot forward, digitally, and in return gain interest from new customers.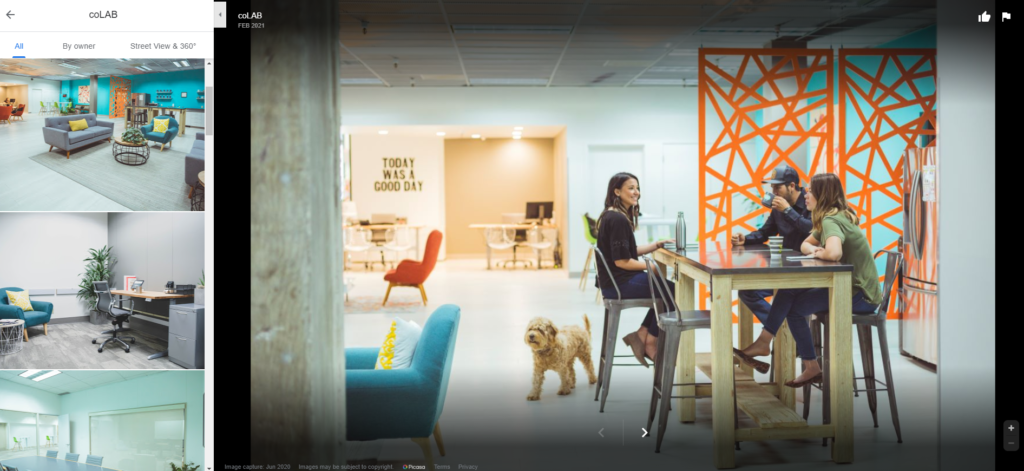 Google My Business Tips
Here are a few tips when it comes to creating and maintaining your GMB listing:
Be sure to let customers know of your Health & Safety protocols

Google now has a section for you to display and inform people of your COVID-19 health and safety protocols. It is important to state your policies there.

Schedule it on your calendar to update our listing at least once a month

Google loves it when you use their platform, be sure to post something new at least once or month.
This can be a simple post (similar to social media) and/or any new offers or deals you are currently running

Add your products + services

Don't finish your listing without adding or highlighting your top products and services. Add a photo if you are able to and a short description.

Be sure your hours are accurate, including holiday hours

Google allows you to create specific hours for holidays, in advance.

Ask for Google reviews every other month or every quarter.

Things are constantly changing and business reviews that were posted a year ago no longer have credibility. Be sure to ask customers for feedback or a review at least every 3 months.

Upload high quality and recent photos
Leveraging Google My Business is a sure and easy way to gain presence and credibility for your business online. It isn't so much an option to have it or not anymore, we would go as far as to say that it is a necessity for your business to have. Here is an example of our own listing that includes everything we have mentioned above, check it out: https://g.page/r/CfMh_wvpS-50EAE
If you do not have a business address and/or do not want to utilize your home address as your business address, most coworking spaces offer these services. Contact us to learn more about it!