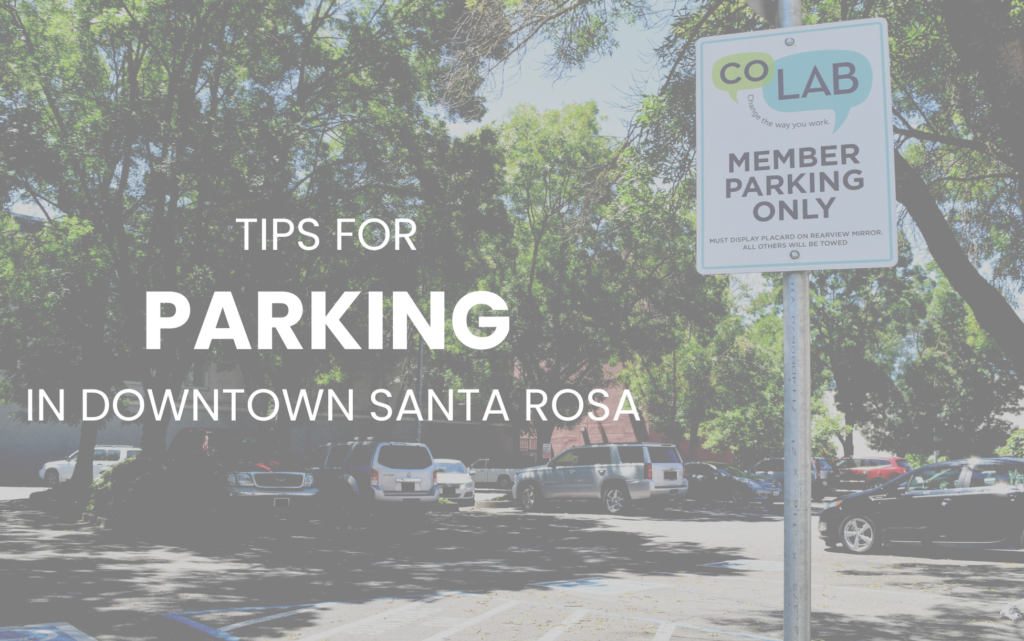 Santa Rosa offers many parking options downtown and we know that it can seem difficult to find the perfect parking spot so we created this handy guide that we hope will help make parking in Downtown Santa Rosa easier!
There are 10 parking garages/lots within walking distance of coLAB and your favorite Downtown shops and restaurants. Parking garages are ideal for those days when you aren't up to circling the block a hundred times like a hungry shark or if you need to be parked for an extended period of time.
Garage not your thing? There are plenty of on-street metered Parking throughout the Downtown. The meters are in effect between 9:00 am and 6:00 pm Monday through Saturday. Their rate is $1.50/hr in the premium zones and $1.00/hr in value zones. These spaces have a 2-4 hour parking limit so be sure to check the meter before walking away. You can also use the Parking App to pay for parking as needed, learn more about how to use the parking kiosk here.
Need a spot with Electric Vehicle charging? You can find ChargePoint parking spaces all throughout Downtown. To find the perfect spot, search your location directly on ChargePoint's map.
Walk or Ride a Bike We also encourage those who can walk or bike to do so if possible. We're proud to be bike-friendly for members, so ride your bike and park it inside!
coLAB Member Perk As an added perk to members, you have access to our private onsite parking lot! Once you become a member you are given a coLAB parking permit that grants you access to prime Downtown parking. If you have guests visiting you at work, they are welcome to park in this lot. Temporary passes for guests are just $3/day. Learn more about flexible memberships HERE
So while parking can be a pain at times, we have you covered, and we hope this post will help you navigate Parking in Downtown Santa Rosa. Yes, it can sometimes be tricky, but know you have options! 
Happy Coworking + Parking!