As a shared coworking space, we love reaching out to members to spotlight them and their businesses. We've expanded our member spotlights in hopes that other members (and future members) can get to know our community. Read below to get to know Michelle and her company that runs solely out of coLAB!
Michelle Ramirez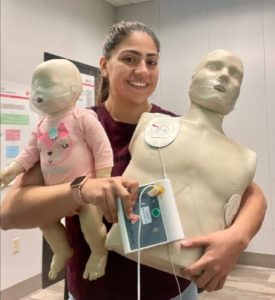 Owner of The Healthsource at Kidsake, CPR & First Aid Classes
I am a mother of 3 amazing children 9, 13 and, 17yrs old. I was born in Texas but raised in California. I come from a HUGE family with so much love and support. For the past 16 year I have worked for The HealthSource (and now this being my 4th year of Owner).
The HealthSource is an American Heart Association Training Center. I teach CPR & First Aid Classes to groups ranging from 12 year olds to adults in all levels of training. It is empowering and rewarding to know I am teaching a great lifesaving skill to people who WANT to learn and those who NEED to know.
What is the last show you binge-watched or currently watching?
THE WOMEN IN THE HOUSE ACROSS THE STREET FROM THE GIRL IN THE WINDOW
– How was it? Eeee
Is there a product you can't live without?
Chap stick!
What's your ideal weekend or fav. thing to do in the Bay Area?
I love spending my weekend around lots of family, we are always getting together just because. 
We're glad you are here and a part of community, Michelle!