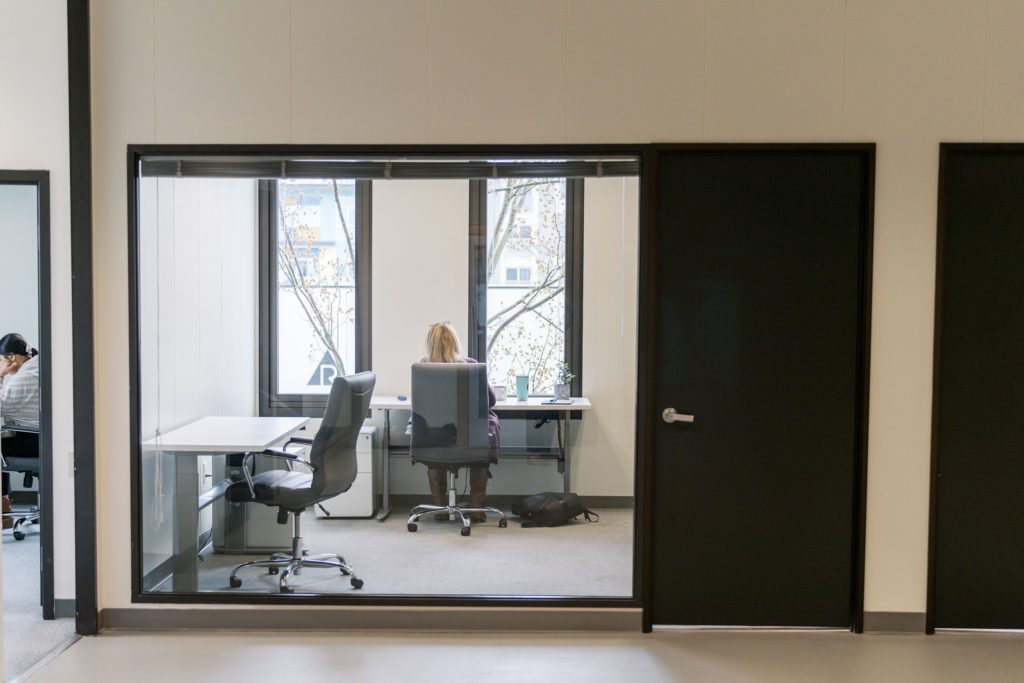 What's it like having a private office at coLAB?
Our office spaces are fully furnished, have flexible terms, and are all inclusive! Private offices at coLAB can seat anywhere between one to six people, perfect for individuals needing a private space or small teams looking to collaborate.
With flexible workspaces becoming increasingly popular, a private office provides professionals with the privacy of a traditional office setup, while also being equipped with so many additional amenities.
A private office at coLAB offers you access 7-days per week, 5:00am – Midnight to a secure workspace designed with premium ergonomic furnishings and productivity in mind. Private office members can enjoy the use of other coLAB amenities such as bottomless coffee and tea, super fast Fiber Business WiFi, lounge spaces, meeting rooms, exclusive member events, and a fitness center, enabling them to be more productive and embrace work-life balance.
Let's talk about the benefits…
Increased Connection
Being in a private office at coLAB allows for a chance to connect, network, and collaborate with others. Whether you are getting coffee or joining a weekly member event, there is always room to meet and connect with others.
Working from home can be of benefit from time to time, but the lack of connection always seems to creep in. As a flexible workspace, we prioritize connecting our members to each other.
Privacy
It might be implied with the name 'private' office, but privacy really is a huge benefit. Every coworker knows it is hard at times to maintain privacy in the open spaces. With that being said, having your own lockable private office is the perfect balance between private and collaborative space.
coLAB is a secure building with member-only access. Our team is on-site Monday through Friday 8am-4pm to assist both members and non-members.
Cost Efficient
Most of the time, working in a traditional office space means that there are a lot of costs involved that a business needs to cover. However at coLAB, everything is included! No need to worry about furnishing your office, dealing with repairs, or hidden costs.
Productivity
Lastly, a private office may be the best option if you are easily distracted by others and need a more isolated setting to get things done. Having a private office will provide fewer distractions. If you are in the market for a new office space, choosing a private office at a flexible workspace such as coLAB may be the best solution for you.